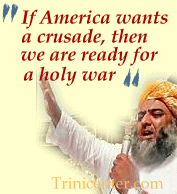 Hate to say it, but it sounds like the Crusaders may have started something that will bite them in the ass...
Courtesy of the Strait Times..
http://bit.ly/ea8xzb
Mar 20, 2011: Arab League criticises Western strikes on Libya

CAIRO - The Arab League on Sunday criticised Western military strikes on Libya, a week after urging the United Nations to slap a no-fly zone on the oil-rich North African state.

'What has happened in Libya differs from the goal of imposing a no-fly zone and what we want is the protection of civilians and not bombing other civilians,' Arab League secretary general Amr Mussa told reporters........
Sounds like our Arab Coalition brothers are having second thoughts. And, the Russians and Chinese are also condemning the attacks now........Not long before the dhimmi European apologists will decide they don't like it either.... Well, Oby will get left holding the bag (until he blames booooooosh). Nitwit-ism 101...